Project A.H.E.A.D
A.H.E.A.D: autonomous humanitarian emergency aid devices
This diagram visualizes the entire scenario and concept of a remote-controlled truck and food delivery convoy.
Cooperative remote-controlled vehicles and technologies from Earth observations by satellites and aircraft will provide humanitarian assistance in places where human aid workers are at risk.
The Local Control Center (LMOC) will work with Global Centers (GMOC).
MAV drones can scout the vicinity of the convoy and act as relays.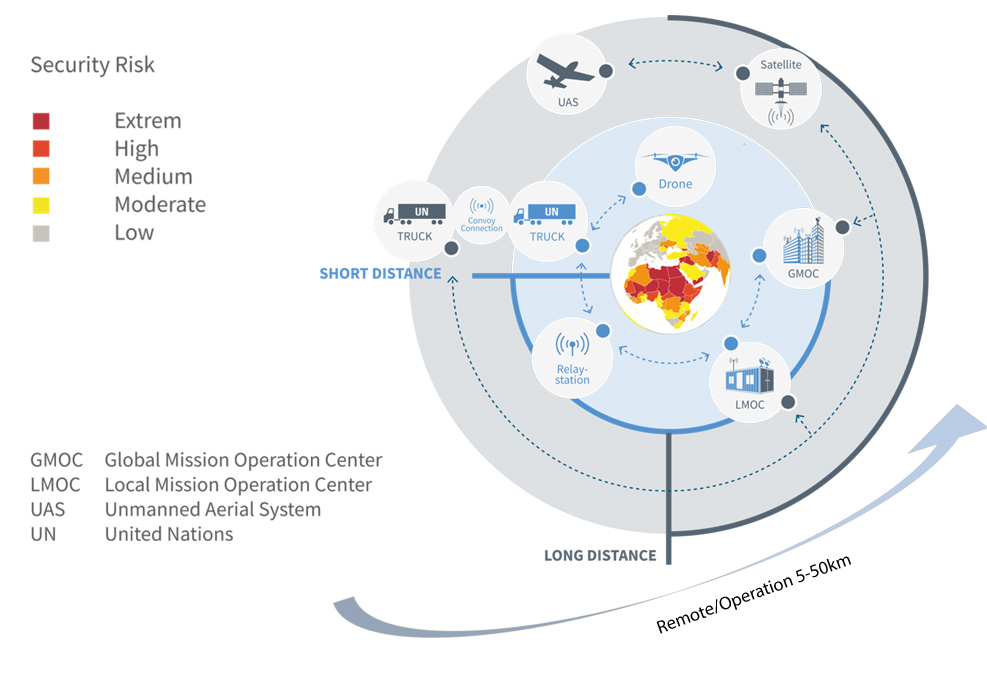 The United Nations World Food Programme (WFP) is the world's largest humanitarian organization, providing food to more than 80 million people in around 80 countries each year. Due to the increasing number of deadly attacks on convoys for humanitarian aid, WFP is committed to creating ways to bring relief supplies to their destination without risk to the life and limb of drivers, e.B. with remote-controlled trucks. In this context, the WFP has asked DLR for support. This task, which is both technically and organisationally demanding, requires close cooperation between various DLR institutes, participating companies and the World Food Programme.
Why A.H.E.A.D.?
In most cases, the danger zone is only a short distance, the last stage of the supply chain -> last mile delivery.
This project expands the scope of humanitarian aid to include possible areas of intervention that could be reached.
Delivery with trucks creates a very large cost saving compared to deliveries by air.
Delivery by trucks is more environmentally friendly than deliveries by aircraft.
In the A.H.E.A.D. project, the required DLR technologies are brought together synergistically.
These concern the interaction of remote control and semi-autonomous driving, special vehicle components, driver assistance systems, remote control over long distances, intermodal global telecommunications solutions with maximum bandwidth and minimal reaction delay, communication between subsystems, long-distance and short-distance reconnaissance, situation analysis, positioning / navigation / routing and UAV techniques for situation recognition.
The operating scenario is observed and controlled from a GMOC (Global Mission Operation Center) located far outside the site of operation somewhere in the world, e.B. at DLR-ZKI (The Center for Satellite-Based Crisis Information), DLR-GSOC (The German Space Operations Center), or WFP-Headquarter Rome. The GMOC is connected to the local base LMOC (Local Mission Operation Center).
The LMOC concept is based on portable shipping containers with a full teleoperation and communication station, which are set up on site to communicate with the vehicle fleet at a distance of up to 50 km. If longer distances are required, relay stations can be used, e.B. locally installed fixed stations, mobile relay stations, which can also be part of the convoy concept by having the trucks themselves serve as relay stations and forward the signal to the next car.
The trucks are SHERP vehicles that are remotely controlled and automated and equipped with multiple sensors that allow real-time monitoring of the vehicle's surroundings.
In order to obtain a third view of the scenario and to be able to carry out scouting in advance, i.e. to survey the situation a few 100 meters in front of the convoys, a remote-controlled and autonomously operated drone can also be used. In addition to monitoring with the drone, the GMOC will have access to satellite image data and, if necessary, to drone or aircraft images from high altitudes. This data is brought together to support the GMOC team in route planning, which it then passes on to the LMOC.
GMOC (Global Mission Operation Center)
From a Global Mission Operation Center (GMOC), all steps of the remote truck mission are organized and monitored, and mission planning is carried out in close cooperation with local authorities. Satellite and UAV data are combined and interpreted by the GMOC experts.
During the development and demonstration phase of AHEAD, a simple operations center will be set up in the "Center for Satellite-Based Crisis Information" (DLR / ZKI). This includes an operational analysis room equipped with hardware and software, an Internet connection and a communication system.
The GMOC is connected to the local base LMOC (Local Mission Operation Center) via mobile networks (GSM), satellite communications or broadband Internet connections to exchange data on a regular basis.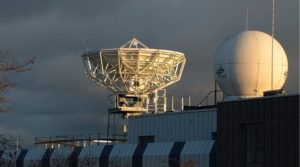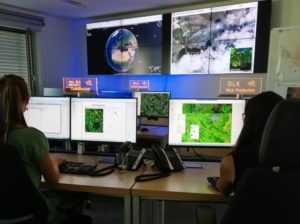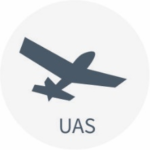 UAS –Unmanned Aerial System
gives an overview on site
Can be operated individually by local organizations
However, application in crisis regions could be critical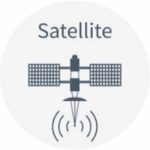 Satellites
Enable continuous and global monitoring of the situation
Can be used to monitor crisis regions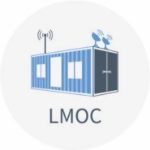 LMOC – Local Mission Operation Center
The Local Mission Operations Center will be placed near the delivery area for the aid deliveries
The LMOC is in direct contact with the GMOC and the truck convoy
The LMOC teleoperates the truck convoy teleoperate and collects all data from the deployment on site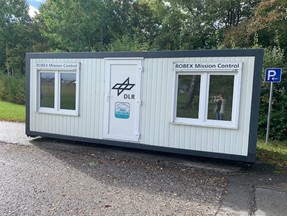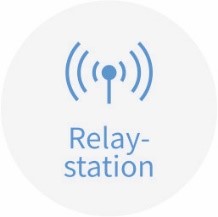 COM – Relay Station
The communication relay station must ensure continuous contact from the LMOC to the truck convoy
Different concepts are evaluated

Locally available technologies
Services available worldwide
Self-deployed solution

The LMOC teleoperates the truck convoy teleoperate and collects all data from the deployment on site
Vehicle Convoy
The locally operated truck – a convoy or a single vehicle – that delivers the last mile is a remote-controlled SHERP vehicle
The first vehicle in the convoy is teleoperated from the LMOC
"Platooning" with a team from SHERPS is an option by having the convoy follow the leading remote-controlled vehicle